Gift Planning
Planned Giving
Find out what types of assets make the best planned gifts. Learn about gifts of cash, securities and property.
Discover the Planned Gift That's Best for You
Whatever your stage in life, planned giving can provide financial benefits to you and your loved ones, while helping you support Emporia State University. Some planned gifts have an impact now, some after your lifetime. Many offer tax savings, and some even provide you with income for life.
Explore your options here, or visit our contact page and reach out to us. We are always here to help you find the plan that is perfect for you!
Lyman B Kellogg Society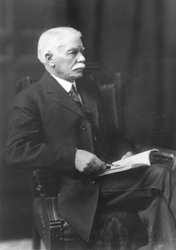 The Lyman B. Kellogg Society is a membership-based giving society recognizing all individuals who are making a planned gift to the university through their estates. The society's name honors the first president of Kansas State Normal School.
Lyman Beecher Kellogg was the first president of the Kansas State Normal School when it opened on February 15, 1865. The school was located in a stone schoolhouse and had 18 students. Funding, facilities and even teaching materials were limited in the early years, and Kellogg was the only teacher. He taught from a classic background emphasizing Latin and English. Kellogg left Kansas State Normal School in 1871 and went on to become a member of the state Legislature, a probate judge and eventually Attorney General of Kansas. His leadership and vision set the stage for the future of what eventually became Emporia State University.
It seemed most appropriate to name the society that honors our legacy donors after this important founder. Planned gifts reinforce the foundation of our institution and maintain our strength and fortitude across many eras. Each February, members are honored on Founders' Day, which also celebrates the university's anniversary.
If you have already designated ESU in your estate plans, please let us know so we may recognize you as a member of the Kellogg Society. Or if you would like to learn more about how to become a member, contact us.